A Report Builder is an end-user report writer tool for extracting information from a TelcoMgr database in a highly structured manner. Reporting styles can vary from simple columnar output to extravagant form letters and sales invoices. Some reports extract and/or manipulate data from a single database, while other reports may require several databases and complex formulae to generate information in the desired manner. (Report Builder is available with the Professional and Enterprise Licenses).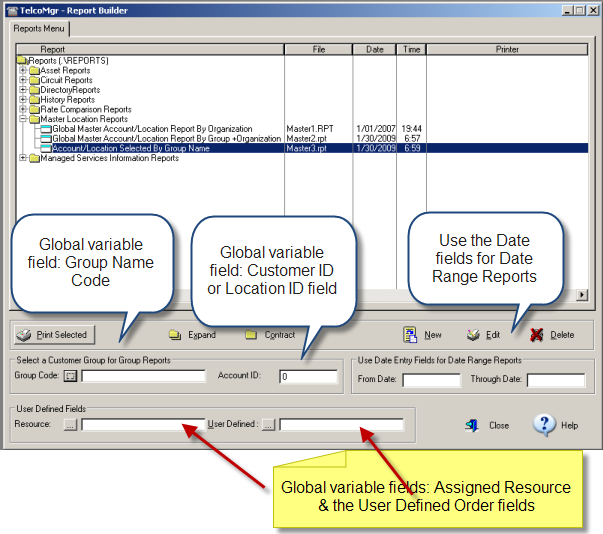 TelcoMgr contains menu options made available to the user for pre-defined reports. While these reports can usually fulfill the majority of end-user needs, times arise when a custom report has to be created. If the means to create/modify reports has not been included in an application, the programmer has to be hired to create the report for the user (usually at a substantial cost). The TelcoMgr Report Builder puts the power of creating/modifying reports into the users hands.
As with any new tool there is a learning curve involved. However, a willingness to experiment can pay huge dividends to yourself and/or firm. You can create as many new reports as you want without paying a programmer to create them for you.
This Report Builder is an extremely powerful tool, comparable in features to software costing hundreds of dollars. Practically any type of report that you require can be created with this simple, yet highly effective tool.
Report Builder is an optional feature of TelcoMgr that requires a Professional License version of TelcoMgr.
Report Builder Overview
•What are some features of this report builder
Quick Tour
•The report manager screen - managing reports you create
•The report creation screen - Get acquainted!
•Bands- An overview on how they process database information
•Frames - How they print text and database information on reports
•Dictionaries - Stores database field information and other useful data
•Pictures - How to change data appearance on a report page