Circuit Tabs: Order Plan +Other Network Info

•The Post Cut Action (PCA) Plan group is used to identify what you plan to do with the line/service and when the change should become effective.
•The Service Order Information is used to save Telco order information for new services that you are planning to implement.
•We leave Reference Notes to your imagination.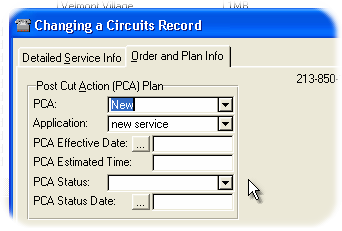 •[PCA Status] is used to record the Status of Post-Cut-Actions. Use the [PCA Status Date] to record the date of the Status change.
•[LNP] OptionThe default value of Local/line Number Portable (LNP) is No. Check with your LEC to determine if your local numbers can be moved/ported to a competitive LEC (CLEC).