Cellular telephones are typically viewed as:
•Subscriber line;
•Calling/data term plan;
•PDA
•Equipment
TelcoMgr provides the end-user a great deal of flexibility to choose where and how the data about cell phones or mobile telephone gets recorded.
---
User Tip:
Recording Cellular Telephone Devices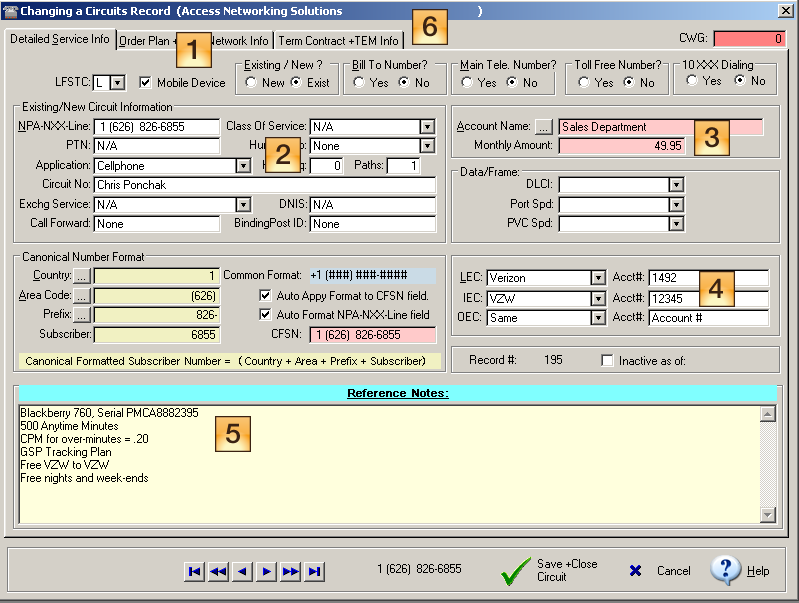 The numbers in the gold boxes appearing in the image above are explained below:
[1] Check the [ X ] Mobile Device check box. This field is useful to specifically filter browse tables, generate reports and/or copy to Excel information that is specific for mobile devices.
[2] Of course, record the mobile telephone subscriber number in the NPA-NXX-LINE field. The application is known as Cellphone, Cellular or similar names. Typically TelcoMgr end-users record the name of the end-user that uses the mobile device as the Circuit No. The users name will appear in browse tables and reports design for the Circuit No.
[3] The Expense of the Mobile Device can be recorded as any other recurring summary charge.
[4] The Carrier information and account codes remain applicable in the use of mobile devices.
[5] The reference notes offers an excellent place to record specific characteristics of the mobile device and features available.
[6] The Cellular Term Plan information may be easily recorded in the TERM CONTRACT +TEM Tab as shown below.