TelcoMgr supports (T6) Canonical (rule based) formats of telephone numbers

: The NPA-NXX-Line [CIR:Line] field has been reformatted so telephone numbers may be accepted in various formats, such as +1 (555) ###-#### or (01) ### ######, plus other international number patterns and emerging ISO formats. The Microsoft TAPI canonical address format is a universal phone number format that is both standardized and widely recognized by many different software systems. The format explicitly identifies the components of a phone number and includes Country or Region Code, Area Code and the subscriber number. The canonical format is +Country/RegionCode (AreaCode) SubscriberNumber. For example, this is how you would enter a number for a subscriber in the United States of America in canonical format [+1 (425) 555-0100].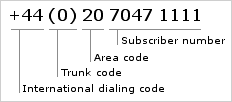 Inside the Circuits Editor window (see image below), phone numbers may be formatted according to the rules that are set for a specific Country, Area Code and Prefix Code.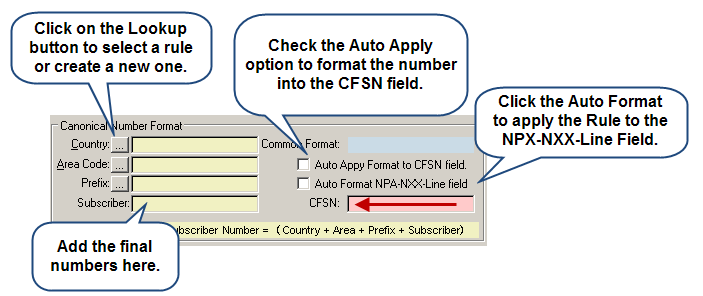 Phone Number Format Options
•Standard NPA-NPX-LINE format
•Common business format (###) ###-####
•Microsoft TAPI format +1 (###) ###-####
Related Topics: